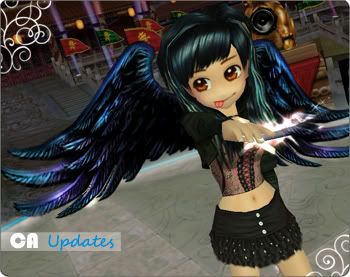 Don't you just love this month's patch? We have the sales,the snow, the Christmas tree, and WINGS! (yes everyone is growing a pair of wings in SEA now :P)
For a more detailed explanation of the patch's content, visit here
Anyways, we'd like to welcome new members:
1. ~Xist
Tester: -Shikamaru

2. bulukun
Tester: Chillibread/Kyuri
Favorite Mode:[/b]Beatrush
No image D: !
3. -Nobie-
Tester: Eunbi
Image unavailable
4.
~Qiang~
Favorite mode: CC4
~K__KitKat~ & ~Rex
Everyone was in white except SOMEONE. But the black one got the flower at the end, ;eeks
Chillibowl & Perilot
~Xist~ & -Xpect
Guess who got the flowers again!! D:
Avatars
~Xist, Yesterday,PuuPoo (Previously ChocoMilk), SciencePro Cheapskate, DJCrapsodyavatars are up!
Those who wish to put avatars of their characters, please pm me when I'm online or just say in fam chat :) ~

Labels: Lawliet